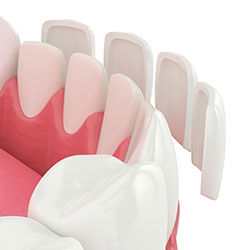 What do you notice first when you see a great-looking person? Cheekbones? Ethnicity? Height? Body type? What about the color and shape of his or her teeth?
There are a lot of aesthetic factors that are not under anyone's control, but you can get beautiful teeth a lot more easily than you might think. How? With dental veneers. They're one of the quickest ways to get straight teeth that sparkle in the sun — when it's actually out!
What Are Dental Veneers?
Veneers enhance the shape, color, and other qualities of your teeth. Each veneer is custom-made to cover the front of a specific tooth. It makes that tooth look:
Whiter.
Straighter.
Undamaged.
Unstained.
More beautiful!
There are many possibilities for reshaping each tooth to look just the way you want. We'll be your personal advisers on what would make your smile look as gorgeous as possible.
We can also get rid of gaps between teeth, if you'd like. In fact, if you get a series of veneers, whole rows of teeth can suddenly look:
Straight.
Even.
Extremely healthy.
How Do I Get Veneers?
When you let us know that you want to make your teeth look even better, we'll check your dental health and advise you on your options. If veneers are a good choice for you, we'll:
Clean your teeth.
Create impressions and start crafting your veneers.
Slightly reshape each affected tooth, as needed.
Bond veneers to the fronts of your visible teeth.
We create veneers in our own cutting-edge laboratory here at our office. Our technicians create dental prosthetics all the time, and we'll oversee the whole process.
You'll get top-quality materials, like porcelain, in your veneers. Porcelain can look like real teeth, reflecting light just like natural tooth enamel. People will be amazed at how great your teeth look — without even knowing they're veneers.
Call Petrini for a Confident New Smile!
Are you ever frustrated that your teeth don't look as good as you'd like? Are you going after a promotion? Heading to a big event? Dating? Let us know you need great-looking teeth, and we'll see if veneers are your best option. Then, get ready; it can happen quick! 
Call Petrini Prosthodontics today for an appointment.