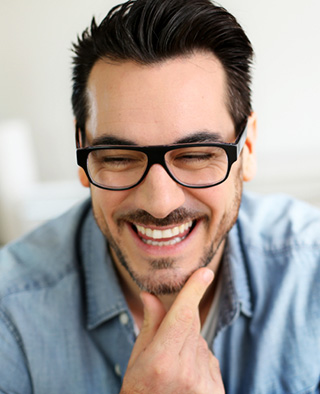 "Prosthodontics." That's not a word you hear every day. What does it do? At Petrini Prosthodontics, our answer is it can raise your self-esteem and make you feel like you're young again. Specifically, we create and place dental prosthetics in order to: 
Reshape deformed teeth.
Restore function after traumatic mouth injuries.
Relieve TMD (temporomandibular disorder).
Correct sleep disorders.
Reconstruct the mouth after oral cancer.
We also follow up with you and make sure you're totally happy with your prosthetics. If your general dentist referred you to us, you'll still get regular dental services from him or her while we partner with you to make your smile look amazing with customized prosthetics.
What Prosthetics Do You Offer?
Prosthetics are diverse. They can relieve pain, protect your dental health, and upgrade the aesthetics of your teeth. Dr. Petrini and the rest of his team are still devoted to giving you the best care to restore your smile.
Dental Bridges
A bridge quickly replaces a missing tooth without using an implant. How? Each bridge is a simple appliance made of three dental crowns. A crown is bonded to each of your natural teeth on either side of the gap, while the third crown rests between them and replaces your missing tooth.
You can get a bridge made of natural-looking porcelain, gold or other metals, or a combination of these. We'll bond it to your teeth and make sure it renews your smile!
Crowns
A dental crown is a cap that covers the top and sides of a tooth, usually because the tooth is damaged. The crown strengthens it, improves its shape, and supplies a beautiful chewing surface. Porcelain crowns look just like real teeth, or you can choose a metal crown.
Implants
A dental implant is an extremely strong and secure new tooth root made of titanium. It becomes a permanent part of your jaw and supports a dental crown that works just like a natural tooth — or several implants can support dentures. Implants can support your prosthetics for a very long time.
Dentures
We handcraft both partial and full dentures here at Petrini Prosthodontics, even finishing them on the same day. They can replace all of your upper or lower teeth, or they can fill in for missing teeth, resting comfortably around your natural teeth.
Fillings
Get customized fillings, inlays, and onlays at Petrini to repair cracked, decayed, or worn teeth. We'll take out damaged tooth material and replace it with ceramic, gold, or other safe substances of your choice.
Occlusal Disease Treatment Appliances
If your bite alignment has drifted, your teeth can wear out more quickly, and your jaw joints, muscles, bones, and gums can get damaged. With a customized dental appliance, we will realign your bite and prevent further challenges.
Veneers
Veneers magically change your smile, almost overnight. They cover the front of visible teeth, hiding all kinds of flaws, such as chips, gaps, and stains. They can give you a confident, sparkling new smile quickly!
Call Petrini Prosthodontics for Comfortable Care
Whether your general dentist referred you to us or you've found us online, call Petrini for any dental appliance you need. We're committed to dramatically, quickly, and safely improving your smile using our own in-house lab. Are you in the Burien area? Call now for fast results!