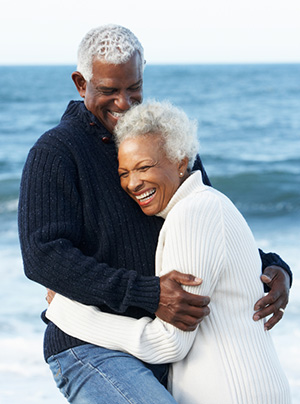 Is it possible to get new teeth in just a day? Yes, with our cutting-edge dental lab in our office, we can take impressions and create your dentures during one appointment.
If you're missing only some of your teeth, partial dentures can change your life. They fill in the gaps left by missing teeth — and they make chewing and smiling so much sweeter!
The Petrini Quality Difference
Low-quality partial dentures can break down after too short a time, but we make ours to last. Our full-time lab technicians carefully craft each denture to the high level of quality we'd want our own family members to use.
Your dentist will also carefully look at your smile, tissues, and whole face for aesthetic purposes.  This is to find just the right match between your current teeth and the shape and color of your dentures.
Your dentures should raise your confidence and make you excited to smile again! We'll put them in place and then adjust them until they look and feel just right.
How Do Partial Dentures Work?
Partial dentures are removable. They snugly fit around your natural teeth and rest comfortably on your gums. With metal clasps, your dentures will stay in place while you're chewing, talking, and smiling, but you can easily pull them out for cleaning.
Here's a bonus benefit: partial dentures help your natural teeth to stay in their healthiest positions. When gaps are left by missing teeth, the remaining teeth tend to move into the gaps, but partial dentures keep them aligned.
Full-Service Denture Care
Your general dentist will keep taking care of your other dental needs, but you can come see us every year for denture maintenance. We're responsible for keeping you happy with your dentures — and we're happy to do it!
We'll give your dentures a professional cleaning, so they feel as new and comfortable as they did the day you got them. Very importantly, we'll check your teeth, gums, tissues, and bones to be sure your mouth is responding well to the dentures. We'll repair or upgrade your dentures as needed.
If you ever feel any pain from your dentures, we can help you right away, even if it's not time for your annual checkup. Call right away so that we can relieve the problem.
Smile Again with Petrini Dentures
Does it sound too good to be true to get dentures in one day? Maybe it is in many locations, but if you're around Burien, you can enjoy state-of-the-art prosthetic technology. We lovingly create every denture here in our office and are excited to see how amazing your teeth can look!
Contact Petrini Prosthodontics now to schedule the first appointment we can get you. You can walk out with a confident new smile very, very soon!